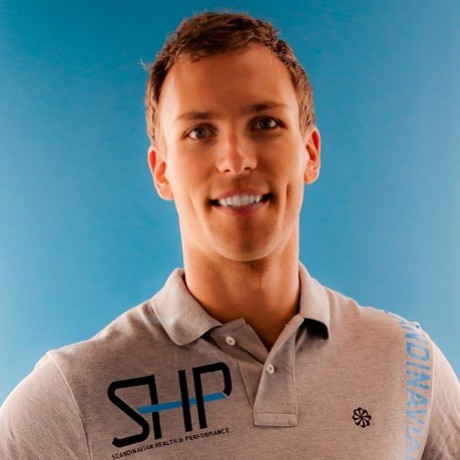 Ian Houghton
Naprapat, Personlig Trener
Ian Houghton er en klippe i AFPT´s Personlig Trener utdannelse. Med en 3 siders CV som inneholder utdannelser fra alle verdenshjørner, og navn som Chelsa FC, Leeds, og AIK. Så sier det seg selv at dette blir spennende.
Future Goals
Establish & expand the "Scandinavian Health & Performance" concept in Dubai and other GCC destinations. Continue to attract additional skilled team members. Further refine educational products and teaching skills within health, fitness and performance training.
Education
Dr. of Naprapathy 2006 – 2010 Scandinavian College of Manual Therapy, Stockholm, Sweden – 4 yr education
Won "Best Thesis Award", with "Can a Functional Movement Screen predict injuries in young female basketball players?"
Certified Strength and Conditioning Specialist 2010 July NSCA. CSCS-Exam
Nutritional Advisor from AFPT 2006 Academy for Personal Training (AFPT), Oslo, Norway6 x 3 day courses over 6 months
Certified EHFA Personal Trainer 2005
Academy for Personal Training (AFPT), Oslo, Norway
Holds current best exam results (99,6%)
Massage Therapist 2004
Manumedic, Oslo, Norway
Sports Science 2004 - 2005 University of Stavanger, Norway - 1 yr full time study
Work Experience
Creator of iphone application "iCommit" July 2013
Creator of ipad application "Personal Trainer Organizer" August 2013
iPad application dedicated towards personal trainers as a tool to run a professional
and organized business
Re-occurring guest speaker at "Nike Blast", 2011, 2012, 2013
2013: 45min lecture: "Strong is the new skinny 101". Approx 250 particpants.
2012: 1 hour lecture: "Training for optimal health". Approx 200 participants
2011: 1 hour lecture: "Do you deserve to squat". Approx 60 participants
Founder and CEO of Scandinavian Health & Performance January 2011 – current
Health and performance system established in Stockholm, Sweden
Branched to Dubai, UAE April 2012. Managing and directing the business as well
as daily operations as a Personal Trainer and Naprapath.
Head Teacher at Academy for Personal Training (AFPT), Oslo September 2009 – current
Responsible for curriculum and teaching of Practical Strength Training, Weightlifting
and Movement Analysis at AFPT, Norways largest personal trainer education
with 200-350 students annually. Recently expanded to Sweden.
Private Trainer and Consultant at "Lindhägen Träning & Naprapati" March 2011 – June 2011
Stockholm
Trained clients and consulted for other trainers and therapists. Over 300 training sessions
Strength Coach & Manual Therapist at "Optimal Fysik" October 2009 – March 2011
Stockholm
Trained and treated clients and athletes at training facility
Over 1200 training sessions
Medical Team Assistant for Chelsea FC on Pre-Season trip July 2009
8 days in the USA travelling with the first-team
Performance Enhancement Consultant at Elite Training Sweden 2008 – 2009
www.elitesweden.com Responsible for rehabilitation and corrective training technique
Sports therapist and Personal trainer at the Naprapathic Clinic 2008 - 2009 Salkhallen Tenniscenter, Stockholm. Over 100 treatments
Personal Trainer and Sports Masseur at Stockholm University 2008 – 2009 Over 100 PT-sessions and over 100 treatments
Sports & Conditioning Consultant for soccer team AIK-reserves 2008 - 2009
Stockholm
AIK is Swedens largest football club
Medical Team Assistant for Chelsea FC Summer 2007
5 weeks at Cobham training facility in England working for the medical team
Medical Team Assistant for Leeds UTD Summer 2005
5 day secondment with Leeds Utd FC during pre-season training in Stavanger
Courses attended and Qualifications Obtained
Nike Golf 360 – Golf Performance Specialist Dallas, February 2013
22hr online module and 2 day course.
Biomedical Dry Needling for Sports Stockholm, November 2012 3-day therapeutic course
Master Rehab Trainer Dubai, December 2011
Rehab Trainer Australia – 6 days course
Muscle Activation Level 1 Dubai, November 2011
Club Physio – 2 days course
Integrative Systemic Dry Needling Stockholm, June 2011
3-day therapeutic course
Selective Functional Movement Assessment (SFMA) Göteborg, March 2011
Humanmotion, 2-day course
Athletic Team Coach Halmstad, November 2010
Eleiko Education, 3-day course
Functional Movement Screen Certification Course Indinapolis, July 2009
Perform Better, 2-day course www.performbetter.com
USA Weightlifting Sports Performance Coach Las Vegas, July 2009
USA Weightlifting, 2-day course
Athletes Performance Mentorship Phase 1 Los Angeles, June 2009
5 day mentorship program www.athletesperformance.com
Program Design & Advanced Program Design Oslo, January + June 2009
Academy for Personal Training, AFPT, 2-day course
Crossfit level 2 Certification Stockholm, April 2009
2- day teaching evaluation exam www.crossift.com
Olympic lifting techniques Stockholm, February 2009
Elite Training Sweden, 1-day course
Explosive Performance Movements I & II Stockholm, November 2008 + May 2009
Elite Training Sweden, 2 x 1-day course
High Performance Movements I & II Stockholm, November 2008
Elite Training Sweden, 2 x 1-day course
Explosive Strength Coach Halmstad, October 2008
Eleiko, 3-day course www.eleikosport.se
Corrective & Functional Trainer Halmstad, October 2008
Eleiko, 3-day course
Russian Kettlebell Challenge (RKC level 1) Copenhagen, May 2008
3-day course www.dragondoor.com
RedCord Neurac 1 Stockholm, May 2008
3-day course www.redcord.com
Sports Medicine level 1 Gothenburg, October 2007
Swedish Society of Sports Medicine, 5-day course
All manual medicine courses from Manumedic Oslo, 2005 – 2007
Intensive Massage Course, Advanced Massage, Triggerpoint Treatment,
Sports Injury Treatment, Sports Nutrition
References and Referees
Dave Hancock, MSc. MCSP, SRP, BHSc
New York Knickerbockers
Director of Physiotherapy
Fredrik Johansson, Lic. Dr of Naprapathy, CIR, CST, MSc lic., PhD Student
Head of Sports Medicine, Scandinavian College of Manual Medicine
Strength & Conditioning Coach for Swedish Tennis Federation
"I have under severeal year observed Ian during courses and practical tuition in Massage, Stretching and Triggerpoints, Sports Injuries and Overload Conditions as well as a Personal Trainer education. Ian shows great knowledge and understanding both theoretically and practically within the area of manual medicine, training and health. He is eager to learn, humble and very ambitious and will be a great resource for anyone who gets a chance to share his competence and personality."
Espen Arntzen, Dr. of Naprapathy
Director of Life Improvement (incl. Manumedic and AFPT)
Columnist as "Training Expert" in Norwegian Fitness Mag. "Shape Up"